Newest of the Newest Arrivals
The Deering family has mastered smoked meats over the last 5 generations, you can taste the tradition. With recipes passed down for generations, they produce only the highest-grade of meat products with our state-of-the-art equipment. What flavor will you choose first?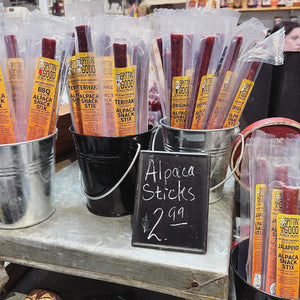 Have you tried Alpaca yet?
Spittin' Good Alpaca Meats is based on the love of jerkies and snack sticks.  They wanted to bring a different kind of meat for all to try, but we also wanted a meat that was healthy, flavorful, and traceable.  Alpaca was the only choice!
Love of food, life, and fun!
TRY THE BEST JERKY WE SELL:
Guest Reviews & Testimonials
Every year I go through my jerky crave. This store has by far some of the best jerky I have ever had. Both types that I have tried were from the refrigerated section of the store. The jerky in that section is much different from the traditional jerky that is dryer and thinly stretched. Each package is vacuum sealed. The pieces were much larger and juicier than the traditional style of jerky sold at local stores.

I had the honey glazed smoked beef as well as the teriyaki flavored smoked beef. I enjoyed both, but I liked the honey glazed one more. It was mainly because of the flavoring. It was much stronger and vibrant for the honey glazed versus the teriyaki. The smoked beef for both were exactly the same.

The jerky here is a bit pricey, so be prepared to spend a little more than usual. But I am okay for this type of jerky. They also have other options such as elk, kangaroo, and ostrich!

Muhammed E.
Kids love this stop! Always have what we need in stock!

Tara M.
Great selection and friendly staff!!

Rachel S.
I thought it was one of the best Teriyaki Hunters sausage that I have ever had. I like it so much that when I got home ( about 1.5 hours away ) I ordered more on line.

Michael H.
Clean store nice employees just didn't have the jerky i was looking for but they do have a very wide selection of jerky at good fair prices!!!

Michigan MLG bedey